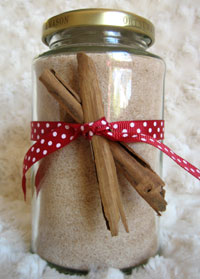 Our gift to give away, this year, was meant to be Gingerbread bath salts.
However, my amazon order, with 20kg of epsom salts, has still not come.
Hence, we have made Gingerbread Sugar.
To sprinkle on toast, in porridge or to use in recipes.
I bet it would be nice in coffee, if you take sugar in your coffee. Which I don't.
Mix well, and pour into clean sterilised jars.